Fluffaby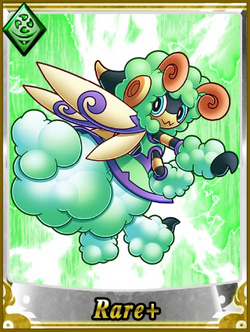 ---
"Droves of Fluffaby blow in with the Northern winds every year, heralding the coming Winter. They carry no weapons, but their breath is so cold that fire Monsters can't stand them."
---
Basic info:
Type:
Wind
Rarity:
Rare+
Max Level:
50
Skill:
Jumbo Flakes
Skill Effect:
Med-boost to wind DEF
PWR Needed:
5
Selling Price:
ADD SELLING PRICE
| | ATK | DEF |
| --- | --- | --- |
| Base: | 500 | 600 |
| Max: | Add Max ATK | Add Max DEF |
| PE Base: | Add PE Base ATK | Add PE Base DEF |
| PE Max: | Add PE Max ATK | Add PE Max DEF |
Evolution Guide
Edit
How To Obtain
Edit
---
Ad blocker interference detected!
Wikia is a free-to-use site that makes money from advertising. We have a modified experience for viewers using ad blockers

Wikia is not accessible if you've made further modifications. Remove the custom ad blocker rule(s) and the page will load as expected.