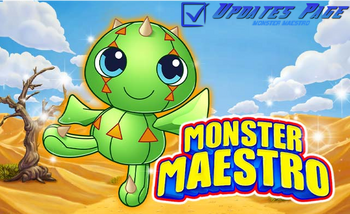 Mobile Use: Press on the full site link at bottom of page. If the page is the same press on the refresh button.
Future Updates
Edit
To the Monster Maestro Wiki Users:
We do not know about what will be released in future updates.
We do not know when new monsters will be released.
We do not know when future updates will occur.
Information will only be posted once it has been released in the game.
From the Monster Maestro Staff
---
Ad blocker interference detected!
Wikia is a free-to-use site that makes money from advertising. We have a modified experience for viewers using ad blockers

Wikia is not accessible if you've made further modifications. Remove the custom ad blocker rule(s) and the page will load as expected.