<< Previous Event - All Events - Next Event >>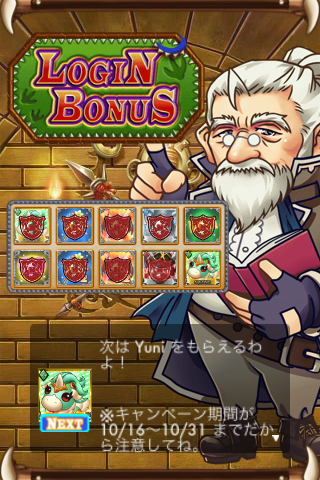 The Login Stamp 3 bonus began October 16th, 2012 and isset to end October 31st, 2012.
Login stamps are awarded once per day when you login. The day resets at 05:00PST. There are 10 login stamps to collect.
Rewards:
Day 1 - Yuni***
Day 2 - 1x Power Herb (Bound)
Day 3 - 1x Sweet monster (Bound)**
Day 4 - Metacoron
Day 5 - 1x GCP Claim Ticket
Day 6 - 4000 Friendship Points
Day 7 - 2x Power Herb (bound)
Day 8 - 2x Sweet Monsters (bound)**
Day 9 - Groggler
Day 10 - Yuni***
Day 11 and on - ??? Friendship Points + Metacoron
Yuni is only available through the login Bonus so make sure to go to "My Page" once every day to collect your stamp (note days reset at 05:00PST
Sweet Monsters are a new Halloween item which recover some of your stats.
Yuni will be used in the crew battle 2 trivolves so keep them to the side until more info is released!
---
Ad blocker interference detected!
Wikia is a free-to-use site that makes money from advertising. We have a modified experience for viewers using ad blockers

Wikia is not accessible if you've made further modifications. Remove the custom ad blocker rule(s) and the page will load as expected.